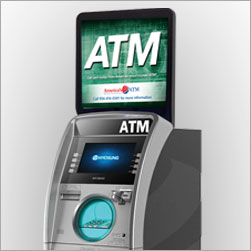 In the late 1990s, advancements in ATM technology transformed the ATM industry and expanded the capabilities of the machine. One of the most significant developments was the rise of IADs, or Independent ATM Deployers; companies or individuals could now own and operate ATMs without being affiliated with a particular bank. With the rise of IADs, the number of ATMs and ATM usage increased dramatically. Over fifty percent of American adults use an ATM at least eight times a month, and individuals can now find an ATM almost anywhere, from malls and airports, to private businesses.
Today's ATM industry has a wealth of opportunities for individuals and businesses to make money. ATM Reseller Partners and independent agents with America's ATM can earn residual income through bundled product offerings to merchants. America's ATM has ongoing partnerships with a variety of social media companies, ATM manufacturers, and digital marketing companies; ATM Reseller Partners and independent agents can offer bundled services to support small business needs. Some of the services offered through America's ATM include free online advertising, social media assistance, marketing help, payment processing, merchant lead generation, and merchant cash advance. America's ATM also offers ATM-related assistance to small businesses, including ATM placement, ATM processing, and ATM maintenance.
Agents and ATM Reseller Partners working with America's ATM have work flexibility and independence. Not only do Reseller Partners and agents make residual income through the product offerings to small businesses, but there is no cap on the amount of income Resellers and agents can earn.  Agents create their own work schedule, have an online dashboard and residual tracking portal, and receive merchant sales leads as well.
America's ATM is a leading provider in ATM space with years of experience in marketing space and financial services. Contact America's ATM via phone at 877-475-1104 to learn more about how you can become an ATM Reseller Partner or independent agent. You can also submit a contact form through the website at http://americanatm.com/contact-us/ to learn more about the Reseller Partner program.