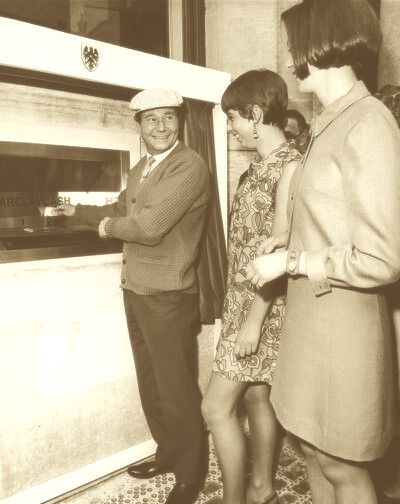 The Automated Teller Machine, commonly known as the ATM, was not the invention of a single person but the result of a series of innovators. Today, ATMs allow users to withdraw cash, make deposits to their account, check account balances, even purchase stamps all without walking into a bank. The first machines however merely accepted cash and check deposits.
ATM Machine Inventor – Luther George Simjian
American inventor Luther Simjian convinced a New York City bank to set up a few of his automated deposit machines in 1960. Simjian's machine contained a camera that photographed each deposit and dispensed the photo as the customer's receipt. After only six months the bank removed Simjian's machines due to lack of demand by customers, the huge, boxy machine, however, served as a model for the design of later ATMs.
After Simjan's automatic-deposit machine came the invention of a cash-dispensing machine by Scottish inventor John Shepherd-Barron. Shepherd-Barron came up with an idea for a cash-dispensing machine after the bank closed on him when he was running late one Saturday. Frustrated, Shepherd-Barron had the idea that withdrawing cash should be as easy and convenient as getting chocolate bars from candy machines. Barclay's Bank in London unveiled Shepherd-Barron's cash-dispensing machine in 1967; customers would enter a four-digit identification code and insert a paper ticket embedded with Carbon 14, a radioactive chemical, to receive money. The machine dispensed up to £10 of cash at a time and the paper ticket would be mailed back to users to protect their account.
ATMs have come a long way from Simjian's and Shepherd-Barron's machines. Today's ATMs can be found virtually anywhere, including retail locations. America's ATM provides business owners with customized ATM programs and services. Programs offered by America's ATM include the free ATM placement program, the free ATM partner program, and the ATM processing program. America's ATM offers business owners the opportunity to receive a free ATM in their establishment as well as personalized customer care to assist with servicing their new ATM. Visit the website, http://americanatm.com/ to learn more about the services America's ATM offers.